TeamEscape Cologne
Escape Room Cologne & City Adventure Adventure
Discover your adventure at Germany's largest and most popular Escape Room provider or experience outdoor fun at a City Adventure through Cologne.
Have fun in the Escape Room Cologne, experience outdoor adventures at a City Adventure or save the world from your couch
Imagine you are standing in the middle of one of our mysterious Escape Rooms in Cologne. Suddenly the door behind you locks and a clock starts ticking… Now only one thing counts: puzzle for all you're worth to escape the room as fast as possible!
You are not in a movie, but at TeamEscape®, the most popular Escape Game in Germany. Tread unusual paths, find hidden clues and in the end unravel the mystery of the room. And all this in just 60 minutes. You might get nervous… Because when you're being set up for the perfect crime, a serial killer is on the loose, or the mystery of a treasure hunter has to be solved, the parlor game is back – in its most tangible form and with you as the main characters. And for all fresh air fanatics there is also our Outdoor Escape. The sun is shining, there is a gentle breeze and you are puzzling in the largest Escape Room in the city: the city itself. Solve exciting missions and discover whole new sides of your city!
Our Escape Rooms in Cologne are a unique experience for outings with friends or family, birthdays, bachelor parties, company outings and many other occasions. Get ready for a Live Escape Game full of adrenaline and solve varied puzzles together!
You need outdoor action? Then our city adventures, interactive scavenger hunts through the city, are just the thing for you! Equipped with an iPad and a case, you'll discover exciting places and solve puzzles together.
You don't have to leave the house to face our missions with friends. With our Online Escape Games our varied fun comes directly to your home. Immediately playable and for up to 6 people per group – also spatially separated.
You are looking for a special gift for a special person or directly for the whole family? Christmas or a birthday come again faster than expected? Then you've come to the right place. In just a few moments you can have a unique gift in your hands.
Select voucher, print PDF, give joy.
Im Zollhafen 5 • 50678 Köln
| | |
| --- | --- |
| Rooms: | 8 |
| City Adventures: | 2 |
| Players: | 2 – 48 |
Show map
TeamEscape ist ein außergewöhnlicher Spaß für Groß und Klein. Wir haben uns alle köstlich amüsiert und viel gelacht, die Stunde verging wie im Flug. Wir kommen definitiv wieder.
Christina · begeisterte Besucherin aus Köln
Bestes Live-Escape-Spiel überhaupt! Thomas Wolf · Mitglied der Giga-Society und mit einem IQ von 200 einer der klügsten Menschen weltweit
Bei TeamEscape haben wir Teambuilding mal anders erlebt – ein echtes Abenteuer bis zur letzten Minute. Auch die Skeptiker waren begeistert und freuen sich schon auf den nächsten Besuch. Ralf · Personalleiter aus Hamburg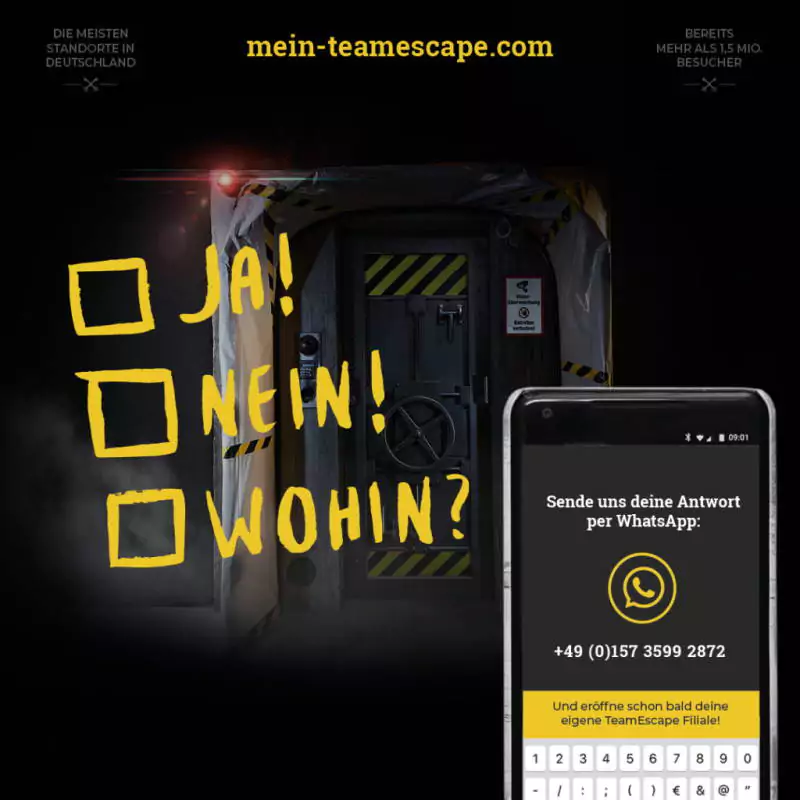 You want to open your own Escape Room?
We have something for you:
Escape Room: How it works
At TeamEscape Cologne you search, collect and combine hidden clues and objects. Solve tricky puzzles, unravel the mystery and escape from our Escape Rooms in Koblenz in under 60 minutes. Each Live Escape Game has its own background story and mission to master.
Escape rooms with friends, families and colleagues
Grab your clique, dive into new worlds in our Exit Games in Cologne and experience what it means to "experience something together" really literally. Because you can only escape from our Escape Rooms in a team: Whether out-of-the-box thinking, sleuthing or logical combining – there is something for everyone at TeamEscape Cologne.
Our Escape Games in Cologne are a real experience for the whole family. At TeamEscape and in our Escape Rooms, everyone has to pitch in to solve the exciting cases: The children find all the hiding places, the parents keep track and grandma and grandpa bring valuable wisdom. Experience unforgettable and unique moments together as a family.
Attention, you companies out there! In the exciting Exit Rooms of TeamEscape Cologne your team will experience within 60 minutes what cooperation, pleasure and cohesion really mean. At TeamEscape Cologne, we can help you put together a team event that is not only fun, but different than much of what you've done before. Curious now? Then learn more about the benefits of teambuilding at TeamEscape here .
Girls' night out at TeamEscape
It's been way too long since the last girls' night out? Then grab your girls and get locked into our Escape Rooms in Cologne. Escape from everyday life, fun without end and enough anecdotes for the rest of the evening – sounds good, right? Of course, we are also happy about the man at your side – but whether you take him with you, we leave up to you.
Escape Rooms: Who can play it?
Friends, families, companies and of course all of you who always have the magnifying glass handy and follow every lead.
Not only the perfect solution for rainy city trips, but also interesting for school trips. Or – for the brave among you – as an alternative for the first date and of course for many other situations as well… Because as different as the Exit Games in Cologne are, as unique are our guests.