TeamEscape Berlin
Escape Room Berlin & City Adventure Adventure
Discover your adventure at Germany's largest and most popular Escape Room provider or experience outdoor fun at a City Adventure through Berlin!
Have fun in the Escape Room Berlin, experience outdoor adventures at a City Adventure or save the world from your couch
We offer you leisure activities in Berlin that bring variety into your everyday life and are guaranteed to be fun! Go to the Escape Room Berlin and decipher the various puzzles we set for you. Together with your friends, family or colleagues you have to solve the tasks in the given time to leave the Escape Room again.
If you're looking for an outdoor activity, our City Adventure through Berlin are just the thing for you! Equipped with an iPad, you'll have to find the hidden clues and complete various tasks.
Our Escape Rooms in Berlin are a unique experience for outings with friends or family, birthdays, bachelor parties, company outings and many other occasions. Get ready for a Live Escape Game full of adrenaline and solve varied puzzles together!
You need outdoor action? Then our city adventures, interactive scavenger hunts through the city, are just the thing for you! Equipped with an iPad and a deployment bag, you'll discover exciting places and solve puzzles together.
You don't have to leave the house to face our missions with friends. With our Online Escape Games our varied fun comes directly to your home. Immediately playable and for up to 6 people per group – also spatially separated.
You are looking for a special gift for a special person or directly for the whole family? Christmas or a birthday come again faster than expected? Then you've come to the right place. In just a few moments you can have a unique gift in your hands.
Select voucher, print PDF, give joy.
Tauentzienstraße 9-12, 10789 Berlin
| | |
| --- | --- |
| Rooms: | 6 |
| City Adventures: | 3 |
| Players: | 2 - 51 |
Show map
TeamEscape is an extraordinary fun for young and old. We all had a great time and laughed a lot, the hour flew by. We will definitely come again.
Petra – enthusiastic visitor from Cologne
Best live escape game ever! Thomas Wolf – member of the Giga-Society and with an IQ of 200 one of the smartest people worldwide
At TeamEscape we experienced teambuilding in a different way – a real adventure until the last minute. Even the skeptics were thrilled and are already looking forward to the next visit. Ralf – HR Manager from Hamburg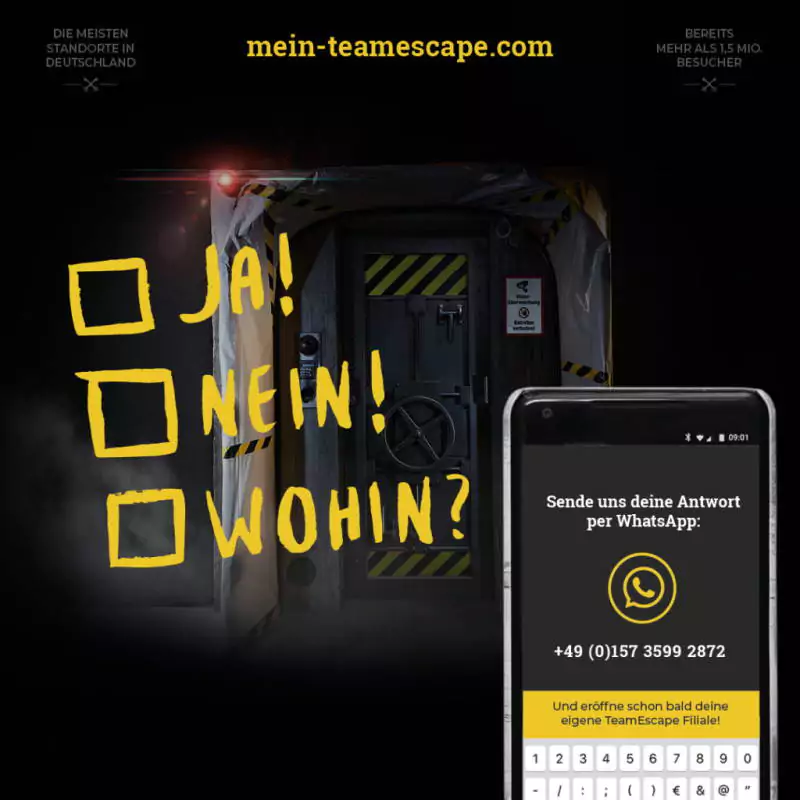 Want to open your own Escape Room?
We got something for you:
Have fun in the Escape Room Berlin or experience outdoor adventures at a City Adventure, save the world from your couch.
Discover leisure activities in Berlin that are guaranteed to be fun! Immerse yourself in the fascinating adventures of our
Escape Rooms
in Berlin and forget about everyday life. Prefer to be outdoors? Then make your city unsafe with our
City Adventure
through Berlin or save the world from your sofa with our online escape games.
Escape games and City Adventurein Berlin - exciting live adventures
Escape games and city adventures in Berlin – exciting live adventures Entertainment, teamwork as well as wits are the main focus of these exciting games. The aim is to experience an adventure together and to use your brains when solving puzzles. Only by working together as a group and combining your individual strengths can you complete the mission.
Look for clues, analyze traces and use your creativity. How quickly will you find the first clue? Can you manage to solve the puzzles in the given time? Book one of our interactive Escape Rooms or an unforgettable City Adventure through Berlin and find out.
Escape rooms with friends, families and colleagues
In our Escape Rooms in Berlin you have 60 minutes to escape from the room. Within this time you have to solve puzzles, combine clues and prove skill.
Whether you have to destroy an asteroid in space or prevent a bomb attack, our Escape Rooms offer variety and fun for young and old. Each adventure will make different demands on you.
The game is usually played in small groups of up to 12 people, so the Escape Rooms are also ideal as a company party, team event, bachelor party or birthday party. Whether with friends, children or colleagues, we offer the right Escape Game in Berlin for every occasion and for every age.
Escape rooms particularly promote the ability to work in a team and logical thinking skills. To successfully complete the mission, you'll have to work together and complement each other's strengths. During the game you may even discover new skills. Exciting challenges await you!
Interactive City Adventures in Berlin
If you are looking for an outdoor adventure, our City Adventures through Berlin are the right choice. Here teamwork is combined with sightseeing, fun and puzzles. Within approx. 2 – 3 hours you will be sent on a varied tour through Berlin. You'll have to solve tricky tasks, explore the city and prove your creativity.
In Battle mode, several teams can even compete against each other. This quickly turns a simple city exploration into an exciting adventure. Only those who collect enough points for their own team can emerge as the winner of the city adventure.
The city adventures are suitable for both small and large groups of 30 people or more. The games are especially recommended as an extraordinary team event or as a fun excursion for school classes.